Books, Blogs, and Articles
Here! We're Queer! Get Used to Us!
Survival Strategies for a Hostile World
(ISBN 1-59457-317-4) can be purchased
through Amazon.com

News reports of anti-gay/lesbian/bisexual/transgendered violence, especially the media coverage of the brutal murders of Teena Brandon and Matthew Shepard, leave us feeling hopeless.
We're Here! We're Queer! Get Used to Us! Survival Strategies for a Hostile World provides an antidote to this sense of hopelessness by showing how LGBT people have successfully defended themselves against homophobic comments, threatening situations, and violence.
We're Here! We're Queer! Get Used to Us! Survival Strategies for a Hostile World also includes a chapter describing same-sex intimate abuse and violence and includes examples of how GLBT people get out of damaging relationships.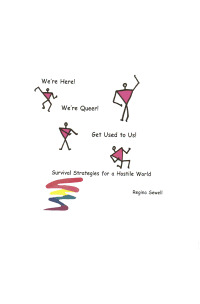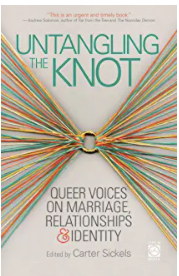 Untangling the Knot: Queer Voices on Marriage, Relationships & Identity
(OpenBook) Paperback – February 28, 2015 Amazon.com
by Carter Sickels (Editor)
Untangling the Knot: Marriage, Relationships & Identity, an anthology of essays and creative nonfiction, delves past the mainstream focus on marriage equality―beyond the knot― to examine the broad scope of issues facing members of the LGBTQ community. The collection sheds light on what marriage equality actually means for queer communities. By confronting the concept of tradition through personal discourse, this volume seeks to create conversation amongst the diverse members of the LGBTQ community and their straight allies to prompt a larger, grander, and more realistic vision of what marriage equality really means for those living in the United States. Untangling the Knot: Marriage, Relationships & Identity includes the voices of many individuals who are underrepresented in the modern discourse surrounding LGBTQ rights, and these unique perspectives may change the direction of that conversation for good.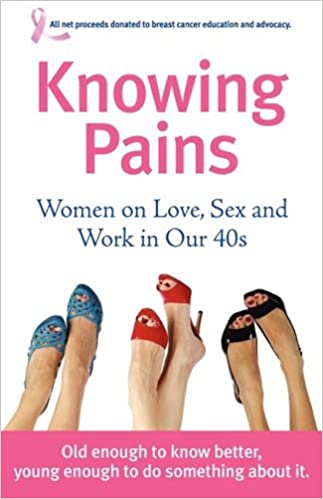 Knowing Pains:
Women on Love, Sex and Work in

Our 40s
Have you ever wondered how other women survived their 40s? You'll get an earful in Knowing Pains, an honest, humorous, thoughtful, and diverse collection of essays by real women who aren't afraid to tell their age and tell it like it is. Sex, marriage, love, divorce, motherhood, singlehood, passion, obsession.
Nothing is off-limits to this startlingly fresh group of new female voices that Molly Rosen has brought together to swap stories and compare notes on the desires, influences, and events that have impacted and shaped their midlives. Collectively, they form a true picture of how real women not only survive their 40s but thrive with dignity, courage and laughter. Available at Amazon
For quick self-help articles or to see what we're doing at Visions Counseling, check out our blog:
Turn Roadblocks into Building Blocks.
If someone you love has Alzheimer's or dementia, read my blog Peering Into Fog about making sense of my mother's Alzheimer's disease.
Selected archived articles originally published in Outlook Columbus as well as articles I've written and videos I've made about Psychodrama can be found below. Click on the title to read the articles of interest.